Savvy Time features
Savvy Time is time zone converter between multiple locations worldwide.
Many Locations
Allows to find, add and compare 4,000+ cities and 300+ time zones.
Rename
You can rename locations for your private goals.
Change Time
You can change time in several ways: Sliders, Input time, Time picker, Date picker.
Share
Share time zone conversion with others and ability to add the event to your private the calendar.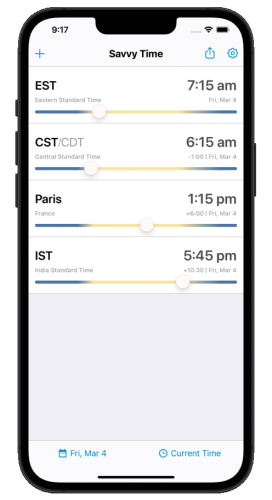 User Friendly
The App is absolutely easy to use.
Clear Design
Intuitive and clear design.
Offline support
Works offline and doesn't required internet connection.
Customization
Lots of customization options that allow to add or remove additional information, such as: Time Zone Names, Time Ahead/Behind, Date, Sort, Slider, Country and much more
Screenshots